The School Crossing Guard program is a key component of the Safe Routes to Schools program administered by the TAM. The program enhances safety and helps reduce the reluctance parents may have in allowing their children to walk or bicycle to school. The program was first implemented in 2006 with 54 crossing guards.
Funding for the program was included in Measure A, the original 1/2-Cent Transportation Sales Tax, approved by Marin voters in 2004. Funding was expanded with the passage of Measure B, the $10 Vehicle Registration Fee, approved by Marin voters in 2010. Funding was again expanded with Measure AA, the 1/2-Cent Transportation Sales Tax Renewal approved by Marin voters in 2018. Measure AA increased the percentage of funding dedicated to the Crossing Guard Program from 4.2% to 7%, increasing the amount of crossing guards funded by the program to 96.
The Crossing Guard Program provides trained crossing guards at key intersections to make it safer for more students throughout Marin County to walk or bike to school. To manage the program, TAM contracts with a professional company that specializes in crossing guard programs ensures that there are well-trained crossing guards with back-ups for every critical intersection, who can be counted on every day, regardless of the weather.
Crossing guard location selection process
Using input from schools, the directors of the public works departments and TAM's Technical Advisory Committee initially identify intersections that would benefit from the provision of adult crossing supervision.
These locations are submitted to TAM for evaluation and prioritization based on standardized criteria using pre-determined elements that expand on State criteria.
All the locations evaluated are ranked based on the overall intersection score and the locations with the highest scores are prioritized for inclusion in the crossing guard program.
The number of locations that are staffed is limited by the availability of program funds. This process was developed as a way to promote equity in the selection process and to prioritize highest needs locations throughout the county.
The list of intersections is periodically updated to take into account changed conditions around schools, including new travel patterns.
We appreciate the men and women who help make street crossings safer for Marin students! In 2012, TAM initiated a process to select a crossing guard of the year to be honored by the TAM Board.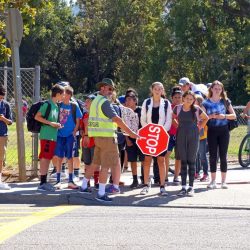 The Crossing Guard Program is primarily funded by the 1/2-cent transportation sales tax, with some support coming from the vehicle registration fee, Measure B.
Short-term funding from MTC and Measure B has been used and allocated as needed to maintain the total number of guards until the 2018/2019 school year.
Approximately $1 million dollars per year are budgeted by TAM to support the crossing guard program.