Agencies around Marin are adding electric vehicles to their fleet and installing or upgrading electric vehicle charging equipment. This toolkit has been developed to assist your agency to make the shift too.
The Transportation Authority of Marin is here to assist agencies towards adding more electric vehicles including plug-in hybrids to their fleet and installing the right level of charging equipment. By taking advantage of resources and incentives, agencies can simplify the process and save thousands of dollars along the way.
Agencies throughout Marin are driving towards a more sustainable future as they advance their fleets with electric vehicles and EV chargers. The Transportation Authority of Marin is here to guide agencies as they advance their concept to a completed project. TAM is assisting Marin-based agencies by providing EV fleet and charging programs, and connecting them to relevant third party efforts that can help agencies in making the transition to electric transportation.
Check out this video that highlights the County of Marin's partnership with PG&E to grow their EV charging infrastructure and support expansion of their EV fleet.
Marin agencies have a wide selection of vehicles to choose from including e-bikes, scooters, sedans, trucks, buses, and other medium to heavy duty vehicles. Agencies do not have to convert 100% of their vehicles to electric in order to be effective. Adding just one or two EVs to a fleet can save thousands of dollars.
Benefits for Adding Electric Vehicles To A Fleet:
Reduce overall fleet costs

Reduce maintenance and fuel expenditures

Minimize the impact of fluctuating gas prices

EV incentives make purchasing/leasing more affordable

Federal, state, and local EV incentives are available for agencies who wish to purchase or lease an electric vehicle or plug-in hybrid

Make your agency a leader

Agencies who add EVs to their fleet can serve as positive examples of what to do. This attention could turn into a positive news coverage for the agency.
Check out the Agency EV Fleet and EV Charging Equipment Toolkit from TAM in the general resources tab.
Electric Vehicle Service Equipment can support both battery-electric vehicles and hybrid-electric vehicles. Grants and incentives are available to cover as much of the cost as possible. TAM can connect agencies with available funding sources.
There are three levels of charging that agencies can use including:
Level 1 charging: Slowest charging with the longest dwell time. All that's needed is a standard 120-volt outlet and the charging cable that comes with the vehicle. Provides an average of 4 miles of range per hour.

Level 2 charging: Faster and commonly found for public and at-work charging. Requires a 240 volt plug. Provides an average of 25 miles of range per hour.

Level 3 charging: The fastest and quickest. DC Fast Chargers are used for public charging stations and can provide 80% charge in 30 minutes.
Benefits of Installing and Upgrading EV Charging Equipment:
Provides a cheaper "fuel" source than gas or diesel

Can utilize existing infrastructure to support EV charging

Funding and rebates are available for all types of EV charging stations from state and local agencies including TAM and MCE.
Check out the Agency EV Fleet and EV Charging Equipment Toolkit from TAM in the general resources tab.
Provided by TAM:
General EV Resources: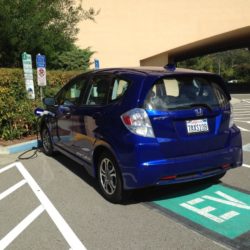 EV Fleet Incentives:
EV Fleet Resources:
EV Fleet Examples from Around California:
EV Charging Incentives:
EV Charging Resources:
EV Charging Examples from Around California: