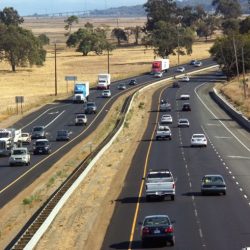 Highway 101 HOV Gap Closure Project
The Highway 101 HOV Gap Closure Project was the first major capital improvement project completed by TAM. The HOV Gap Closure was one of the key components of the Measure A ½ cent sales tax measure passed by Marin County voters in 2004. Measure A determined that 7.5% of the sales tax would be dedicated to "fully fund and ensure the accelerated completion of the Highway 101 Carpool Lane Gap Closure project through San Rafael.
The project closed a 4.5 mile gap in the HOV lane system in Marin County from Lucky Drive to North San Pedro Road, providing 17 miles of continuous carpool lanes from Richardson Bay Bridge to Route 37.
Key construction features included:
A visual mitigation project was initiated in September 2016 for landscaping and irrigation in the Brookdale Avenue neighborhood in San Rafael.
Also as part of mitigation associate with the Highway 101 Gap closure project, in summer 2016 TAM directed $82,000 to help buy open space in Sausalito.
As part of environmental mitigation to compensate for the unavoidable impacts to Irwin Creek from the Highway 101 Gap Closure project, TAM contributed $82,000 to close a funding gap and enable the purchase and preservation of an environmentally rich parcel of land in the Sausalito hills.
Open Space Sausalito has been working with the City of Sausalito to acquire and dedicate 2.1 acres of land, known as the Lincoln-Butte parcel, as open space. The City of Sausalito owns 50% interest in the land and the remaining interest was owned by a private party. The total purchase price of the private interest was $225,000 and OSS Sausalito has been conducting a successful fundraising drive to purchase the parcel.
The $82,000 from TAM helped fulfill our mitigation requirement and allowed Open Space Sausalito to purchase the ownership rights from the private party. The City has dedicated their interest to fully preserve the property as open space.
This land is a rich wildlife corridor and is excellent habitat for numerous plant and animal species and migrating birds. We are pleased that these highway mitigation funds could be spent on a local Marin conservation need.